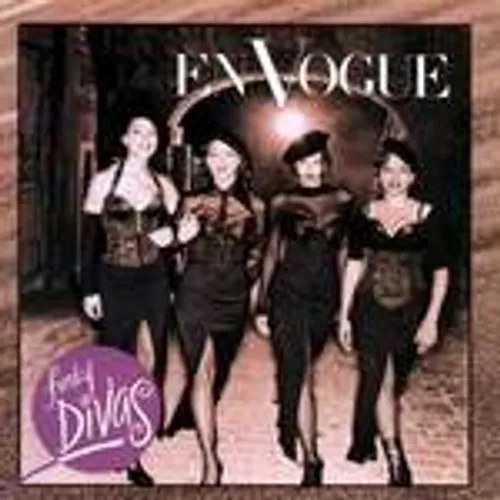 Details

Format: CD
Label: EastWest
Catalog: 92121
Rel. Date: 03/24/1992
UPC:

075679212122
Formats and Editions
Reviews:
''Funky Divas'' is the second album by the U.S. female vocal group En Vogue. Released in 1992, it became their highest selling album to date, shifting over 5 million copies worldwide.
The lead single, "My Lovin' (You're Never Gonna Get It)", became an instant hit, peaking at No. 2 on the Billboard's Hot 100 and No.4 in the UK. The accompanying video for "My Lovin'" won two MTV Video Music Awards.
The second single, "Giving Him Something He Can Feel" (a cover of the Aretha Franklin hit from the film ''Sparkle''), also became a Top 10 hit on the US Hot 100 (and also their fifth No.1 single in the US R&B chart). Another Franklin song from ''Sparkle'', "Hooked on Your Love", is also on the album, as is a rendition of The Beatles' hit "Yesterday".
The third single, the rock-infused "Free Your Mind", became another Top 10 hit. In the UK, the single made the Top 20 and was backed with "Giving Him Something He Can Feel", which had failed to make the UK Top 40 by itself earlier that year. The video for "Free Your Mind" won three MTV Video Music Awards in 1993.
By the time the fourth single, "Give It Up, Turn It Loose", was released in early 1993, the ''Funky Divas'' album was already certified triple platinum in the US by the RIAA. The single gave the group another UK Top 40 hit (#22).
The fifth and final single released from ''Funky Divas'' was "Love Don't Love You", which was remixed for its release. The video for the single consists of clips from previous En Vogue videos "Giving Him Something He Can Feel", "Free Your Mind", as well as two of their 1990 videos "Lies" and "You Don't Have To Worry".
A second edition of the album containing the later hits "Runaway Love" and "Whatta Man" (with Salt-N-Pepa) was released in the UK in 1994. This edition of ''Funky Divas'' also includes remixed versions of "Hip Hop Lover", "It Ain't over Till the Fat Lady Sings", and "Love Don't Love You" (a different remix from the U.S. single release in 1993), along with slightly altered artwork inside the CD booklet.
Unlike En Vogue's first album, ''Born to Sing'', ''Funky Divas'' includes lead vocals by each member of the group on different songs. - Wikipedia
back to top